Welcome to

Cabo San Lucas Weather Channel, Official Cabo Fishing Weather Reports on the Internet from NOAA and other reliable sources.

Cabo San Lucas boasts a superb climate year around. The warm sunny days make it a favorite fishing destination for those wishing to hook into the fish of a lifetime. Cabo Weather ranges from average highs in the winter in the mid 70's to,  in the summer, in the mid 90's. Spring and fall boast high's in the mid 80's. Cabo is a tropical desert and thus Cabo weather is low in humidity and has an annual rain fall of about 10 inches (25.4 cm), most of it  falling during the months of September and October, the height of the Hurricane season.

With over 300 days a year of sunshine, you can pretty much count on sun during your vacation. Cabo weather is just beautiful. And what more can you ask for? How about great fishing for Marlin, Tuna, Wahoo, Dorado and other fish species? There are lots of different species and large number of fish available year round. Check out our weather and  come down to Cabo for your fishing trip of  a lifetime.
Hurricane Season is upon us. Latest on Tropical Cyclone formation from NOAA
Back  to Top
Click East Pacific - Rainbow Color Infrared Image for loop.
Back  to Top
Click on East Pacific - Water Vapor Image for loop.
Back  to Top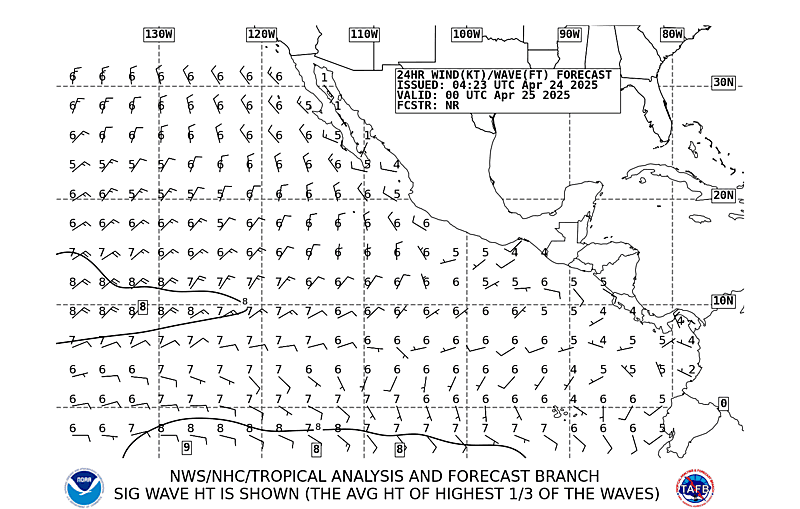 Click on Wind Wave Chart for Larger Chart
The wind barbs indicate both the wind speed in knots (nautical mile per hour) and the wind direction (from which the wind is coming from). Each long segment is 10 knots, and each short segment is 5 knots. To get the wind speed, just add up the flags and segments.
Back  to Top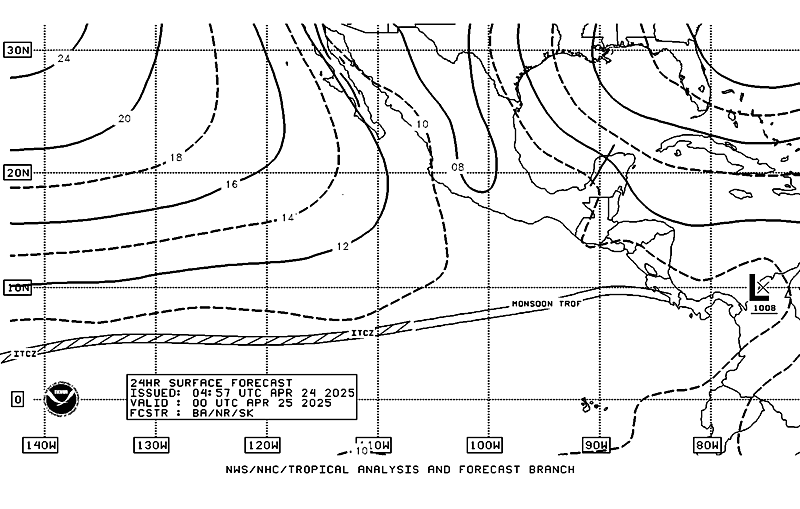 Click on Image for Enlargement
Click here for Loop of NHC/TAFB Experimental Gridded Marine Forecasts
Back  to Top
Gulf of California 5 day Composite SST
Back  to Top
Click on map for loop of East Central Pacific Sea Surface Temperature Loop
Back  to Top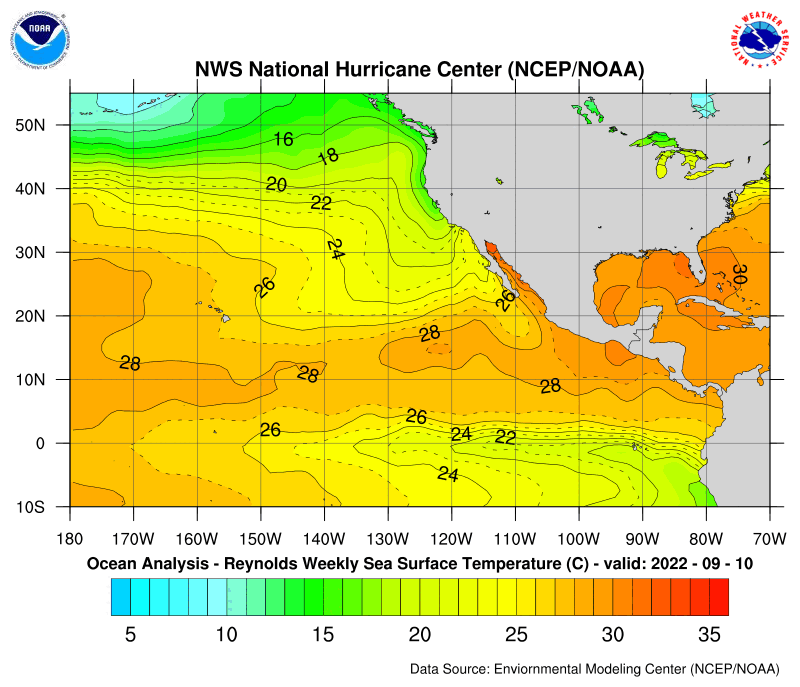 Reynolds Weekly SST
Last Updated (Monday, 08 July 2013 20:28)